Marine Harvest U18 Girls win Gold at BC Soccer championships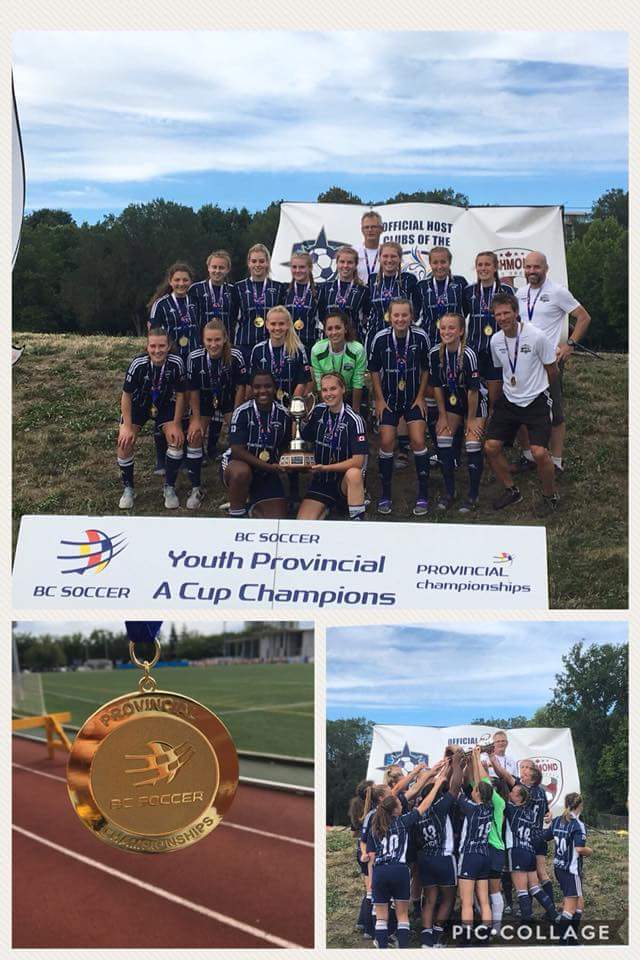 The Marine Harvest Riptide U18 Girls won gold at the 2018 BC Soccer A-Cup championships, July 5-9 in Richmond.
To quote a BC Soccer official, "The girls played very well," as they demonstrated how Upper Island soccer teams are making their mark in the BC Soccer world. The girls worked hard in each game and were inspired amidst some injuries and fatigue. "Thanks to clever organizing by the Riptide committee/coaches, the Riptide teams were privileged to stay at the UBC dorms where all amenities were just a short walk away." a Riptide team spokesperson noted.
"The gold medal ceremony caps off a previoue bronze and silver medal for a team who came together in the fall of 2015, and grew strong together, training every week, rain or shine, and playing hard every weekend to be the top in the U18 girls division on Vancouver Island and the best team in the province.
"The joy and sadness at the end of this great season was felt by all present. Thanks to to coaches Scott Harris and Ernie Selentin, and Mike Kearns for his consistent support," the spokesperson said."Johanne Moreau kept it all so very well organized, and Shel Brodsgaard provided excellent technical support. Thanks especially to the parents who shared in all the wins and, smiles and tears as without you, it would not have been possible."